Universities and Of students Quantity
2017-2018 For the beginning of the school year in Georgia 75 HEI was, between them, 20 - State, but 55 - Private. All higher education institutions with 143 808 Students study. Their 65% Is a student at a state university.
Information on higher education institutions and students of the National Statistics Office of Georgia 2000-2001 Has been published since the school year. 2000 in Georgia 171 It was a high school, where 110 287 The student was studying. despite, That the number of schools was reduced to 75, 30% more students study in them, than 17 year ago. 2004 By the year the number of universities was increasing and 2004-2005 For the school year already 198 It was a school, where 145 452 The student was studying.
2005 Since then, the requirements for authorization-accreditation of higher education institutions have been tightened and hence, The number of schools began to decline. Decreasing trend 2011 Lasted up to a year and a minimum of - 52 Reached high school, where 95 110 The student was studying. 2011 The reason for the sharp decline in the number of universities this year is authorization- There was another tightening of accreditation requirements. 2012 From this year the number of schools and students will increase.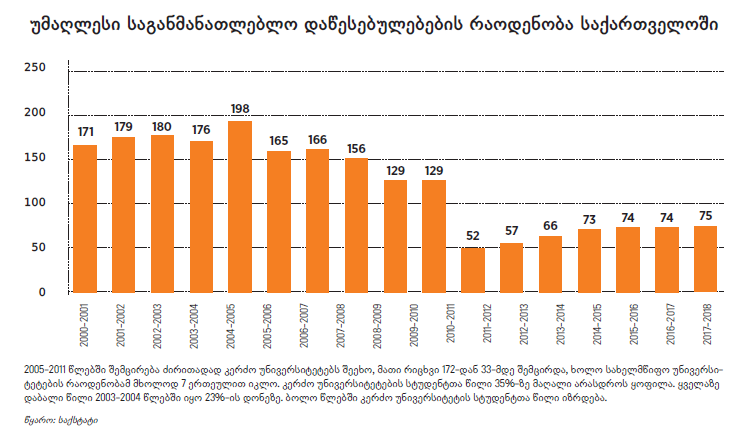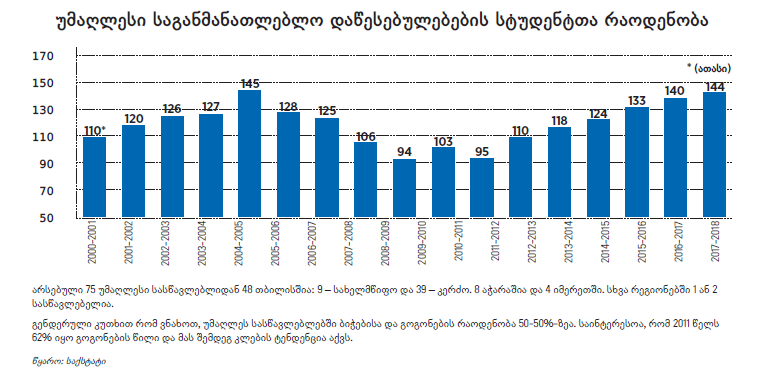 Most Required Training programs Higher In schools
The most in-demand programs in the social sciences, Business and law, Where a total of students 45% Studying (64 379 Student). Then comes science, where about 20 000 Students study, Slightly less studying in health and social security programs. least, 2%, Studies in education programs. Separately taken in private universities on social sciences, Business and Law students 62% Studying. The following are the most in-demand medical programs. As private, So state universities also have the least demand for education programs. State Universities of Social Sciences, After business and law programs, most students choose science programs.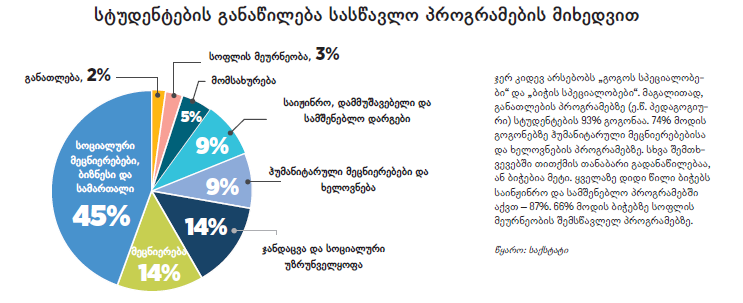 foreign students Georgian In universities
The number of foreign students in Georgian universities is growing rapidly. The reason for this is the cheapness of higher education in Georgia and the liberal visa regime. 2017-2018 Higher education in Georgia in the academic year 10 074 The foreign student was taking over, It 2 062 With more students 2016 year high. 10 Years ago only in Georgia 621 A foreign student was studying, 16 times more last year. Their number 2014 Even doubled compared to the year. Foreign students 69% He is a boy.
Foreign students 64% They study in private schools and their number in private has been growing much faster in recent years (On average by 44%), Than in public schools (On average by 12%).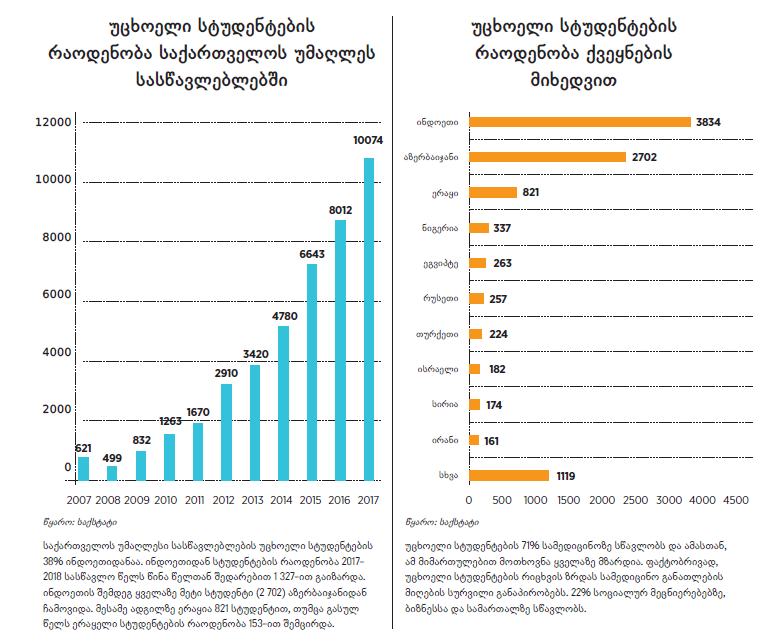 Higher Education Funding and prices
Higher education is funded from two sources: From the state budget and tuition fees paid directly by students. Universities from the state budget 4 They have the kind of funding: Training grant (Takes a student, despite, Will be admitted to a state school, If in private), Funding under a social program (Are taken by the socially vulnerable, As a state, Also in a private school),
Free faculties (Only public schools) And software funding (Only state universities).
2018 Higher education from the state budget this year 148.5 It was financed with one million GEL. from here 11.8 Millions were spent organizing the exams, Training Grants - 113.6 million (This includes social funding and free faculties as well), In promoting education abroad - 6.9 million, And on the promotion of higher education institutions (Software funding) 16 A million was spent. List of free faculties by number of places of education, Science, Published annually by the Ministry of Culture and Sports. Funded by Agrarian Sciences, Education, Engineering, Natural Sciences, Social Sciences, Humanities and interdisciplinary fields and specialties. This means, That if a student is admitted to a higher education institution with any score on the national exam, Will be enrolled in that faculty of State University, Which is on the free list and a 100% grant from the budget (2250 Lars) Will receive. However,, Recently, the Minister of Education said, that, Likely, 2019 From now on, there will be no more free faculties in universities, Because this approach did not work and the amount will be added to state universities under another scheme.
Private universities receive a student-only study grant from the state budget, Which is the maximum 2 250 GEL.
State universities are not eligible, Annual tuition fee 2 250 To impose more than GEL, Private universities do not restrict pricing by law, Depend only on competition and student solvency. despite, That state universities receive money from the budget in other ways as well, They have much less money to spend on educating one student, Than some private universities, Which offer better learning conditions and education to students precisely because of financial ability.
Annual tuition fee for Georgian language programs in Georgian higher education institutions 1500 GEL 8000 GEL. Price for English language programs 19 000 It also reaches GEL. Several universities have English-language medical education programs, Where tuition fees are much higher, Than in Georgian. These programs are designed for international students, Because they are mainly interested in the study of medicine. The situation in the higher education institutions of Georgia is better than the secondary schools in terms of the quality of education. This is due to several circumstances: On average, more than one student spends money, Than per school student, The average level of motivation to study at university is higher, Than the competition between schools and universities is higher, Than between schools. The choice of school is mainly determined by the place of residence.
it's a long time, Higher education has not become more expensive in Georgia. The average price is now lower, than 10 It was years ago. In this background, When the average salary in the country rises and everything else becomes more or less expensive, The purchasing power of money decreases. It is difficult in such conditions, Universities maintain quality. State policy is focused on the cost of tuition fees and not on the quality of education. The reduction in real tuition fees is one of the reasons, That the number of students is increasing from year to year. It is politically difficult to ceiling the annual tuition fees of state universities - 2 250 Gel to increase, despite, That of today 2 250 The gel is much less, than 10 It was years ago. A large part of the population generally wants to get a diploma more, Rather than getting a real education. This falsity has its great reasons, Which is the subject of separate articles and studies.